THE GUARDIAN
2 de agosto, 2023
Marina Silva welcomes progress but says climate crisis means upcoming regional summit needs to produce real action
A deforested and burning area of the Amazon rainforest in the region of Labrea, state of Amazonas, northern Brazil. Photograph: Douglas Magno/AFP/Getty Images.
Deforestation in the Brazilian Amazon fell by at least 60% in July compared to the same month last year, the environment minister, Marina Silva, has told the Guardian.
The good news comes ahead of a regional summit that aims to prevent South America's largest biome from hitting a calamitous tipping point.
The exact figure, which is based on the Deter satellite alert system, will be released in the coming days, but independent analysts described the preliminary data as "incredible" and said the improvement compared with the same month last year could be the best since 2005.
The rapid progress highlights the importance of political change. A year ago, under the far-right then president, Jair Bolsonaro, the Amazon was suffering one of the worst cutting and burning seasons in recent history. But since a new administration led by Luiz Inácio Lula da Silva took power at the start of the year, the government has penalised land grabbers, mounted paramilitary operations to drive out illegal miners, demarcated more indigenous land and created more conservation areas.
The results will bolster Lula, Marina and other Brazilian hosts of an Amazon summit designed to strengthen regional cooperation that will take place in Belém on 8-9 August with the participation of eight rainforest nations: Brazil, Colombia, Bolivia, Peru, Ecuador, Venezuela, Guyana and Suriname.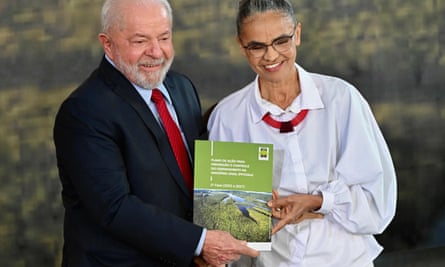 Silva said the acute threat of the climate crisis, which has brought record heat to many South American countries, meant the summit had to be more than a show of unity; it needed to produce concrete and continuous results to ensure the Amazon did not reach a point where it starts to dry up and die off, which scientists have warned is drawing closer.
She has proposed that each country produces an action plan, that they jointly create a scientific panel to keep them updated with the latest data, and that they share best practices to achieve the three goals of the summit: protection of the forest and traditional peoples, and to combat inequality and strengthen democracy.
The key to the improvement in Brazil, which is home to 60% of the Amazon, she said, had been a strong target. "The main reason is the decision of Lula to aim for zero deforestation. Since then, we have created new conservation units and indigenous territories that have produced some results … Now we need to move towards a new model of prosperity that is less predatory, less damaging to local people and the forest."
In the first six months of the year, deforestation in the Brazilian Amazon fell by 34%, compared to the same period last year, according to the Deter satellite alert system.
The figures for July, which is a more revealing month as it usually marks the onset of the clearance season, are still being collated, but Silva said they would show a significant improvement of "at least 60%" since the same period last year.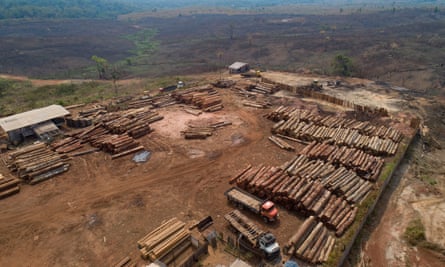 Independent analysts believe this might even reach as high as 70%. "It's incredible, totally crazy," said Tasso Azevedo, a forest engineer and founder of the MapBiomas analytical group. "This is on course to be the sharpest fall since 2005. We are still figuring out why this is happening so fast."
He believes the slowdown is due to a combination of factors: the resumption of embargoes and other protection activities by the government, improved technical analysis that reveal where problems are occurring more quickly and in more detail, greater involvement by banks to deny credit to landowners involved in clearing trees, and also wariness among farmers generated by the European Union's new laws on deforestation-free trade. It may be no coincidence that deforestation has not fallen as impressively in the cerrado savanna, which is not yet covered by the EU's controls.
Silva cautioned that a single month based on preliminary satellite data does not represent a trend. A clearer picture may take a couple of years because the government's annual tally runs from August to July, which means this year's total will include the devastating last five months of Bolsonaro's administration.
Nonetheless, she saw encouraging signs compared with the last time she was environment minister, from 2003 to 2008. Back then, the ministry had not been run down as it was during the Bolsonaro years and federal police mounted major support operations, which has not so far been the case this year, but it still took two years before policies started to show results.
This year, the ministry has had to make do with far fewer resources and to rely more on remote embargoes of soy and cattle based on satellite monitoring. "It's different now. The problem is more serious and more complex, but we have more experience and we know how to do it," she said.
Silva hopes the improvement can be a springboard for a new cycle of prosperity in the Amazon and beyond, based on a sustainable use of resources, open markets to certified products, the development of a bioeconomy and greater financial support from wealthy countries that benefit from the rainforest's role as a climate stabiliser and rainmaker.
Outside investment, trade and financial support will be crucial to show there is a viable alternative to destructive cattle ranches and soy plantations. Due to her success in combating the worst excesses of forest clearance, Silva has come under fierce attack from the agribusiness and oil lobbies in Brazil, and Congress has eroded the power of her ministry.
She faces an additional challenge from the El Niño, which has brought horrifying temperatures of 38.9C to the Chilean Andes in mid-winter, desperate water shortages to Uruguay and monthly heat records in several parts of Brazil. This is expected to worsen drought and fire risks in the Amazon over the coming months, though they would have been worse if the previous president's policies have been continued. Lula and Marina have committed their political futures to zero deforestation and will push for continued reductions in the run-up to the United Nations climate conference Cop30, which is expected to be held in the Amazon city of Belém in 2025.
Tomado de: https://www.theguardian.com/environment/2023/aug/02/amazon-deforestation-falls-over-60-compared-with-last-july-says-brazilian-minister